Description
AWARD WINNING PRODUCT!
GET THE GLASS LOOKING SKIN IN JUST 3 PERFECT STEPS!
The Ionic Skin Perfector is a one of a kind beauty tool designed to complement skincare routines through ultra-infusing skincare products, while deep cleansing and minimizing the appearance of fine lines and wrinkles.
This 3-in-1 beauty tool offers simplicity for day and night-time routines cleansing up to 7 times more effectively than hands and helping to absorb 98% of skincare products in just 2 minutes.

The unique Ionic Thermo-Infusion technology of the Skin Perfector stimulates the absorption of skin care products by opening the pores and reaching the lower layers of the skin in just 2 minutes. 


But that's not all. The Ionic Skin Perfector boasts a number of advanced tech features such as:
Light Therapy that penetrates deep into the pores soothing acne and smoothing out fine lines
EMS Micro Current that trims and tones muscles for healthier and younger looking skin
Nano Sonic vibration that enhance the skin's service by removing the impurities and blocked pores
The Ionic Skin Perfector is waterproof and rechargeable, delivering 500 uses per full charge.
TO USE:
1. MELT AWAY MAKE UP: Its Thermo-Frequency technology melt the makeup particles for easier removal.
2.DOUBLE CLEANSE: The vibrating bristles made of carbon silicone deeply remove dirt, makeup residues and excess sebum from your skin without drying it out completely.
3. ULTRA INFUSE: The Thermo-Frequency open the pores boosting absorption of masks and serums, reaching lower layers of the skin. The micro impulses trim and tone the muscles like a simple face workout
4. PROMOTE COLLAGEN PRODUCTION: The Light Therapy boosts a healthier and younger looking skin.
HOW TO CLEAN:
The Ionic Skin Perfector is waterproof. Recommended to wash thoroughly with regular soap once a week.
Sustainability
SUSTAINABLE PACKAGING:
Our PREMIUM packaging has been aligned to the Sustainable Packaging Initiative by reducing the use of plastic and other polymers. Our giftable box is 100% recyclable and recycled carton to promote our 3Rs Sustainable Policy: REDUCE, REUSE, RECYCLE.

WORRY FREE WARRANTY:
We at CHOK BEAUTY stand behind our products with our 60 Days Satisfaction Guarantee and 10 Years Warranty. If you are not 100% satisfied, please CONTACT US immediately.
INCLUDES:
1x Ionic Skin Perfector

1x USB Charger

1 Instruction Manual
Customer Reviews
12/10/2020
Sheila T.
United Kingdom
Instructions could be easier, but once mastered they're ok
I used it for the first time yesterday, lovely feel afterwards and felt really fresh. Will test over time for any visual improvement.
11/19/2020
Mrs M.
United Kingdom
As seen on TV
This is an amazing device. I saw it on TV and decided to get it, this is the best deal of the year !
11/17/2020
Suzanne H.
United Kingdom
My skin totally loves this!
Ok, so I'm 30 and I started feeling that my face doesn't look 20 anymore, so I started to search for devices. I saw this on TV and a lot of very positive reviews and... OMG I love it !!! I feel my face looks younger (and I wanted to get some injections, but now I'll wait lol) I deff recommend this one!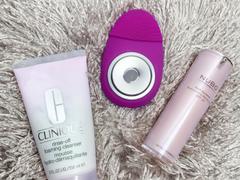 11/17/2020
Angela B.
United Kingdom
Love it!
Saw a lot of difference once I started to add it to my regimen and I love the results! I'm in my 50s and it works!
11/17/2020
Laura L.
United Kingdom