𝗦𝗸𝗶𝗻𝗰𝗮𝗿𝗲 𝗶𝗻 𝗴𝗹𝗮𝗺 𝘄𝗶𝘁𝗵 𝗼𝘂𝗿 𝗴𝗼𝗿𝗴𝗲𝗼𝘂𝘀 𝗛𝗲𝗮𝗱𝗯𝗮𝗻𝗱

Our Headband is the ultimate finishing touch to your skincare routine. Use it to keep your hair back while applying sheet masks, or use it as a spa style accessory for your routines at home.

GOOD FOR: ☼ 𝗔𝗠 𝗿𝗼𝘂𝘁𝗶𝗻𝗲 + ☽ 𝗣𝗠 𝗿𝗼𝘂𝘁𝗶𝗻𝗲
We at CHOK BEAUTY stand behind our products with our 𝟯𝟬 𝗱𝗮𝘆𝘀 Satisfaction Guarantee. If you are not 100% satisfied, please CONTACT US immediately: customer@chokbeauty.com
Description
SUPER SOFT, EXTRA COMFORT!
💗 Our skincare and makeup headband is made of super soft thin material to bring more comfort on your head and ensures the breath ability when using it.
💗 Premium soft and skin-friendly pink fleece material provides outstanding touch feeling.
💗 Designed to use when washing face, applying mask, doing facial spa, playing yoga, jogging or any time needing to tide up your hair.
💗 The premium quality of our Headband and packaging is great for gifting too.

Customer Reviews
08/12/2021
Charlotte M.

United Kingdom
Didn't fit my head
Disappointed, didn't fit my head
07/30/2021
catriona b.

United Kingdom
cute
really cute but not great quality, the diamanté section peels off immediately and is a bit gluey.
07/30/2021
Ale M.

Denmark
Not only for humans! - A great tip for doggy mums
Ok guys, I have a very cute doggy that is terrified of anything with wings and really strong sounds. Now on the summer time, he can't cope with the mosquitoes, flies and bees. Not fault of his own and fair enough, he was stung by a bee last year. I saw on a grooming video that they cover doggies ears when drying them up and explained the reason as they being annoyed by strong sounds. LSS, one day I decided to put my Chok Beauty's headband and voilà! He remains so calmed and soothed, that now I have them ALL lol! So not only for humans, but for doggies. ☺️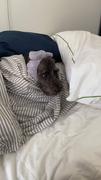 07/26/2021
Claire W.

United Kingdom
06/07/2021
María C.

United Kingdom
Cute headband
Super cute and great quality.
03/05/2021
Samantha W.

United Kingdom
Quick delivery Lovely gift
Does what it says quick delivery Daughter very happy with this to put a face mask on and her make up
11/03/2020
Tamara B.

United Kingdom
Cute headband
So cute, great price!
10/28/2020
Jess P.

United Kingdom
10/19/2020
Roxana F. R.

Mexico
Love it!
Well i must say the bow does not sit as in the photo, but it is heavenly to touch and comfortable, not too tight that it gives you a headacke.
10/10/2020
Louise

United Kingdom
Love it!
Love this for the price, cute great quality :)