Description
AWARD WINNING PRODUCT!
GET THE GLASS LOOKING SKIN IN JUST 3 PERFECT STEPS!
The Ionic Skin Perfector is a one of a kind beauty tool designed to complement skincare routines through ultra-infusing skincare products, while deep cleansing and minimizing the appearance of fine lines and wrinkles.
This 3-in-1 beauty tool offers simplicity for day and night-time routines cleansing up to 7 times more effectively than hands and helping to absorb 98% of skincare products in just 2 minutes.

The unique Ionic Thermo-Infusion technology of the Skin Perfector stimulates the absorption of skin care products by opening the pores and reaching the lower layers of the skin in just 2 minutes. 


But that's not all. The Ionic Skin Perfector boasts a number of advanced tech features such as:
Light Therapy that penetrates deep into the pores soothing acne and smoothing out fine lines
EMS Micro Current that trims and tones muscles for healthier and younger looking skin
Nano Sonic vibration that enhance the skin's service by removing the impurities and blocked pores
The Ionic Skin Perfector is waterproof and rechargeable, delivering 500 uses per full charge.
TO USE:
1. MELT AWAY MAKE UP: Its Thermo-Frequency technology melt the makeup particles for easier removal.
2.DOUBLE CLEANSE: The vibrating bristles made of carbon silicone deeply remove dirt, makeup residues and excess sebum from your skin without drying it out completely.
3. ULTRA INFUSE: The Thermo-Frequency open the pores boosting absorption of masks and serums, reaching lower layers of the skin. The micro impulses trim and tone the muscles like a simple face workout
4. BOOST COLLAGEN PRODUCTION: The Light Therapy boosts a healthier and younger looking skin.
HOW TO CLEAN:
The Ionic Skin Perfector is waterproof. Recommended to wash thoroughly with regular soap once a week.
Sustainability
SUSTAINABLE PACKAGING:
Our PREMIUM packaging has been aligned to the Sustainable Packaging Initiative by reducing the use of plastic and other polymers. Our giftable box is 100% recyclable and recycled carton to promote our 3Rs Sustainable Policy: REDUCE, REUSE, RECYCLE.

WORRY FREE WARRANTY:
We at CHOK BEAUTY stand behind our products with our 60 Days Satisfaction Guarantee and 10 Years Warranty. If you are not 100% satisfied, please CONTACT US immediately.
INCLUDES:
1x Ionic Skin Perfector

1x USB Charger

1 Instruction Manual
Customer Reviews
09/15/2021
Sophie A.

United Kingdom
09/08/2021
Mr S.

United Kingdom
Recommended
Honestly, for the price, this product is amazing! Im a man and I use this probably 3 times a week right before bed to give a really good cleaning to my face. I personally have fairly sensitive skin and so I will break out if I use the product too often but I have noticed my pores have gotten much smaller since I used this product like a month ago.
09/03/2021
Eden

United Kingdom
Small, but mighty.
I love using this. It's super easy to add into any daily routine. The results are quick to notice too. I'd recommend to everyone.
09/03/2021
Michaela

United Kingdom
Amazing.
I have been using chok beauty for over a year and each day my skin feels like it has had a professional facial. For such a little product, it produces amazing results. So much so, that I have bought one for my daughter, my mother, my sister and my best friend so that they too can experience the wonderful results.
09/01/2021
Paola M.

Italy
Prenditi cura di te. Lo meriti.
Utilissima. Completa la cura del viso.
08/30/2021
Angela T.

United Kingdom
Pleasantly surprised
I cannot express how much this has helped my skin. My expectations were low, but after weeks, I'm already seeing great results. All the non-red bumps on my skin are gone and I have significantly less inflamed acne. I highly recommend this!
08/27/2021
Vanessa

United Kingdom
Love this little beauty.
Use this every morning & evening. My skin feels so good after using it & I suffer from sinus problems and this really helps me when used on the gentle massage. It works on the back of my neck as I can get stiff neck. It's an all rounder. Love it.
08/21/2021
GRETTA V.

United Kingdom
very impressed
Very compact facial machine lots of great setting to perform many treatments with great results very impressed
08/12/2021
@skincare_to_makeup

United Kingdom
08/04/2021
Sheila T.

United Kingdom
08/02/2021
Carla P.

Spain
Excelente producto
Estoy encantada con mi aparato! Lo he utilizado por las últimas cuatro semanas y ha sido una experiencia magnífica! Mi piel luce mucho más radiante, no tengo puntos negros y la gente me dice que tengo un brillo especial en el rostro. Lo recomiendo ampliamente!
07/30/2021
Ale M.

Denmark
Your skin becomes smooth and shiny!
Of all Chok Beauty's products, this is my favorite! I purchased it long time ago and not only did my acne has considerably improved but I can feel that my skin is hydrated, smooth and it looks so healthy. I first wash my face with the bristles that give a soothing massage (follow the instructions of your dermatologist for better results), then I apply my favorite hypoallergenic mosturizer and give little touches with the ionic infusor which feels amazing on the skin. The vibrating feature makes it a really enjoyable product. I have big hands and it has the perfect size so I can handle it properly, unlike the Foreo products that not only are so expensive, but they are tiny and they have a smell after a while. Oh oh and my most favorite thing of all? Is that is totally waterproof and environmentally friendly. ☺️ Totally recommended.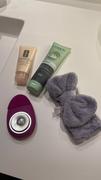 07/28/2021
Beauty B.

United Kingdom
Real change in my skin complexion
My daughter could see a real change in my complexion. My skin looks a lot brighter since using this and my daughter who is suffering with teenager acne has noticed a huge difference too!!! Recommended.
07/20/2021
Maria G.

Spain
Simplemente espectacular
He querido tener uno de estos cepillos limpiadores desde hace varios meses pero todos los que se promocionan en Instagram me parecen de muy baja calidad y el de Foreo está carísimo... así que decidí comprar el Chok, y me ha más que encantado! Es súper chulo y la calidad está fenomenal! El pecio es súper justo para todos los beneficios que ofrece. Lo he utilizado por dos semanas y mi piel luce mega radiante y la textura de mi cara ha mejorado muchísimo. Yo recomiendo chok Beauty!
06/17/2021
Sarah s.

United Kingdom
06/16/2021
Lisa B.

United Kingdom
Superb!
These product is the best find of the year. I wash my face everyday and the ionic vibrating function is a real innovation. The price is real bargain and the quality is superb!
FOLLOW US ON IG! 💗 @CHOKBEAUTY