XL REUSABLE MAKEUP REMOVER PADS
𝗧𝗿𝗮𝗻𝘀𝗶𝘁𝗶𝗼𝗻 𝘁𝗼 𝗮 𝗭𝗘𝗥𝗢-𝗪𝗔𝗦𝗧𝗘 𝗹𝗶𝗳𝗲𝘀𝘁𝘆𝗹𝗲 𝘄𝗶𝘁𝗵 𝗴𝗹𝗮𝗺!
Our pads offer a chemical free alternative to regular makeup removers as these completely remove makeup just using water!!!

Save more than 40% on cleansing wipes, as can be washed up to 200 times replacing more than 600 disposable ones.

GOOD FOR: ☼ 𝗔𝗠 𝗿𝗼𝘂𝘁𝗶𝗻𝗲 + ☽ 𝗣𝗠 𝗿𝗼𝘂𝘁𝗶𝗻𝗲
Made of Nano-fibres 1/10th the diameter of a human hair and 1/20th the diameter of a strand of silk, amazingly absorb primers and waterproof makeup with just water.

This premium material helps to get deep into your skin layers and clear clogged pores from dirt and bacteria while maintaining balanced the pH levels in your skin.

We at CHOK BEAUTY stand behind our products with our 𝟯𝟬 𝗱𝗮𝘆𝘀 Satisfaction Guarantee. If you are not 100% satisfied, please CONTACT US immediately: customer@chokbeauty.com
Description
Our Korean inspired reusable makeup remover pads completely wipe off makeup and gently exfoliate your skin.
They are ionic charged due to the open spaces between the fibres, attracting dirt and heavy makeup like a magnet!

They are a great alternative designed to remove even the toughest makeup including waterproof mascara and eyeliner, primers and lipstick.

They are naturally hypoallergenic, perfect for your sensitive skin.
Amazingly absorb makeup residues, oils and dirt while reducing bacteria by 99%


20% larger than regular reusable pads are great to deep cleanse into your pores

Suitable for all skin types, even the most sensitive ones
HOW TO
TRANSITION TO A ZERO WASTE LIFESTYLE!
Save more than 40% on cleansing wipes, they can be washed up to 200 times replacing thousands of disposable pads.
REMOVE WATERPROOF MASCARA AND EYELINER
Made of Nano-fibres 1/10th the diameter of a human hair and 1/20th the diameter of a strand of silk.
The super fine fibres amazingly absorb primers and waterproof makeup with just water.
GREAT FOR HEAVY MAKEUP

They are ionic charged due to the open spaces between the fibres, attracting dirt and heavy makeup like a magnet!
They are also non-abrasive and gentle on your skin surface.
A MUST HAVE FOR YOUR SKINCARE ROUTINE
These are essential for your morning and night routines as the three layers remove face masks and cleansers.
As they're chemical-free, they're an amazing choice for those with sensitive or allergy-prone skin.
HOW TO CLEAN:
Wash them with warm water and detergent, do not use any softener. Hang to dry.
Sustainability
PREMIUM PACKAGE!
Our PREMIUM packaging has been aligned to the Sustainable Packaging Initiative, the giftable cosmetic bag is 100% recyclable to promote our 3Rs Sustainable Policy: REDUCE, REUSE, RECYCLE.
INCLUDES:
3 Extra Large Hypoallergenic Reusable Makeup Remover Pads

Cosmetic bag

Instructions Manual
Customer Reviews
09/03/2021
Lynda W.

United Kingdom
Great make up removers
I absolutely love this product and wouldn't hesitate to recommend them to others Lynda
08/19/2021
Lisa K.

United Kingdom
07/17/2021
Carron W.

United Kingdom
Great product
They do what it says on the tin. The remove make up and clean your face lovely. Leaving your skin really soft. The wash well too.
04/16/2021
Janine-Lynda C.

United Kingdom
1000% recommend
Was a bit dubious about these, but WOW. These are fantastic. I use to take off make up, using face wash, exfoliated etc. I also use to take of face mask. So soft and gentle In the skin. Very easy to clean, nothing sticks in the fibres. Would definitely recommend
04/02/2021
Anna C.

United Kingdom
Great product!
These are absolutely lovely. Very soft and the bag that they come with is cute. They remove make up really well.
03/29/2021
Katie W.

United Kingdom
Awesome!
Me and my friends have always been conscience about face wipes and the impact they have on the environment. I am over the moon with this product! I can't believe they remove all my make up with just water alone. Once used simply pop them in the washing machine! I have already recommended to friends. Absolutely thrilled to bits.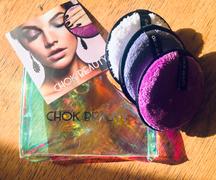 03/27/2021
Erika W.

United Kingdom
Love environmentally friendly products
I don't often write reviews, but I had to with this. I've been using them for about a month now and I won't go back to using face wipes. These are so nice to use and my skin feels so much cleaner and smoother. I pop mine in the washing machine and they come out like new.
03/18/2021
Craig S.

United Kingdom
Good product but delivery was a let down
Package was open when arrived and 1 pad missing must have been an issue wih the delivery
03/17/2021
Caroline L.

France
Génial
Une bonne découverte pour moi avant j'utilisais des cotons démaquillants jetables et là j'ai voulu tester ce produit et j'en suis satisfaite ! Ces tampons démaquillants réutilisable sont efficaces, doux pour la peau et économique.
02/06/2021
Janet

United Kingdom
Makeup remover pads
Ordering was easy and they arrived quickly. They are super soft easy to clean and are brilliant at removing my makeup
01/26/2021
Cat

United Kingdom
Makeup removed in an ease
I use A lot of heavy eye makeup and these cotton pads took it off with ease not only did they remove my make up they also did not cause any micro tears or irritation to my eyes and to say they are soft is an understatement. 100% recommend these over baby wipe. They are very easy to clean as well and plus they are reusable and eco friendly
12/18/2020
Lisa

United Kingdom
Bought my eyes up in a rash
Bought these from Amazon, nice and soft easy to clean trying to be eco friend by not using cotton pads, will have to go back to using cotton pads as I've now developed a rash under my eye that won't go away very disappointed
10/30/2020
Terri L.

United Kingdom
Makeup Remover Pads
Excellent and easy wash for next day makeup removal . Great clean cleat fresh feeling skin
10/28/2020
Sam K.

United Kingdom
10/27/2020
lamorii

Italy
Great Purchase
I decided to say goodbye to the classic disposable floppy disks and chose using the reusable pads from chokbeauty and they completely removed my makeup and gently exfoliate the skin without contaminating! Great purchase
07/16/2020
Blair M.

United Kingdom
Great value for money
Bought these as an impulse as they were on sale when I bought my skin Perfector. I'm quite surprised with their quality, they're super soft and extra large. My mum and sister have bought them too. Great value and quality.