Description
PINK GRACE.
We proudly partner with the charity Breast Cancer UK 'BCUK' to campaign on the prevention of breast cancer. We encourage women to take action and self-check their breasts at home.
The Ionic Skin Perfector is a one of a kind beauty tool designed to complement skincare routines through ultra-infusing skincare products, while deep cleansing and minimizing the appearance of fine lines and wrinkles.
This 3-in-1 beauty tool offers simplicity for day and night-time routines cleansing up to 7 times more effectively than hands and helping to absorb 98% of skincare products in just 2 minutes.

The unique Ionic Thermo-Infusion technology of the Skin Perfector stimulates the absorption of skin care products by opening the pores and reaching the lower layers of the skin in just 2 minutes. 
But that's not all. The Ionic Skin Perfector boasts a number of advanced tech features such as:
Light Therapy that penetrates deep into the pores soothing acne and smoothing out fine lines
EMS Micro Current that trims and tones muscles for healthier and younger looking skin
Nano Sonic vibration that enhance the skin's service by removing the impurities and blocked pores
The Ionic Skin Perfector is waterproof and rechargeable, delivering 500 uses per full charge.
TO USE:
1. MELT AWAY MAKE UP: Its Thermo-Frequency technology melt the makeup particles for easier removal.
2. DOUBLE CLEANSE: The vibrating bristles made of carbon silicone deeply remove dirt, makeup residues and excess sebum from your skin without drying it out completely.
3. ULTRA INFUSE: The Thermo-Frequency open the pores boosting absorption of masks and serums, reaching lower layers of the skin. The micro impulses trim and tone the muscles like a simple face workout
4. PROMOTE COLLAGEN PRODUCTION: The Light Therapy boosts a healthier and younger looking skin.
HOW TO CLEAN:
The Ionic Skin Perfector is waterproof. Recommended to wash thoroughly with regular soap once a week.
Sustainability
SUSTAINABLE PACKAGING:
Our PREMIUM packaging has been aligned to the Sustainable Packaging Initiative by reducing the use of plastic and other polymers. Our giftable box is 100% recyclable and recycled carton to promote our 3Rs Sustainable Policy: REDUCE, REUSE, RECYCLE.

WORRY FREE WARRANTY:
We at CHOK BEAUTY stand behind our products with our 60 Days Satisfaction Guarantee and 10 Years Warranty. If you are not 100% satisfied, please CONTACT US immediately.
INCLUDES:
1x Ionic Skin Perfector

1x USB Charger

1 Instruction Manual
Customer Reviews
12/17/2020
ALEXANDRA L.
United Kingdom
Comfortable In my own skin!
Finally beginning To feel comfortable In my own skin thaks to @chokbeauty I have been using these Korean inspired beauty products since the summer now and they've made such a difference. The 3 in 1 ionic skin perfector is a must buy- makes high end skin care so much more convenient, even on those days you just want to climb in bed. They are currently selling sets containing clinique products to use alongside the tools at a massively discounted price! Make sure to check it out!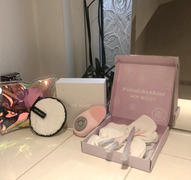 12/17/2020
Laura S.
United Kingdom
Useful
As well as being great for cleanising, using the silicon buffer, this does other stuff too! There's a metal plate that you can use to help your moisturiser or serum sink in, it vibrates and it does help! You can use the heat function too if you like, it's more of a warming and is amazing used over a sheet mask to help the product really absorb. This area has a ring that can be removed, and you pop a cotton wool round on it then replace the ring, holding it in place. Use this with a cleanser, it removes make up so well with the vibrations! If you are thinking of getting a cleansing brush, I'd reccommend spending a bit more to get these extra functions.
11/28/2020
Pamela W.
United Kingdom
lovely and easy to use
I love it, lovely and easy to use!
11/23/2020
Carly
United Kingdom
A good thorough cleanser
Main points: Thermo Infusion opens your pores for better absorption of skincare. LED penetrates your pores soothing acne and smoothing wrinkles. EMS Radio Frequency trims and tones muscles for healthier looking skin. Ions soften the cells maximising the effect of creams. Nano Sonic vibrations remove impurities and blocked pores. This is a great little beauty gadget. It cleanses really well and I love the led light to help reduce acne. My skin feels super clean after. This would make a nice Christmas present.
11/17/2020
Wolfwoman .
United Kingdom
3 in 1 Top skincare
Most nights, I just use micellar water on a reusable, washable pad and just wipe over it. With this, I can fasten my usual pad to this machine and step up the cleansing. It shows a red light to show it's working and it gives little pulses that kind of tap the skin. I feel like I'm doing more to ensure my skin is properly clean at night with this. I've been using an electronic silicone thing with soft bristles in the shower on my face every morning for a while now and I do think that my face is cleaner for that and this seems just the same to me. The bristles are very soft but they feel as if they are gently getting into my pores and pulling out the dirt of ages. My face feels cleaner and any blackheads are only visible in my 7x magnifying mirror now. You can also use these soft bristles to massage your face cream into your skin more deeply, making it more effective. The back of the Chok is ridged for a massage and lifting effect, which feels as good as my electric jade roller. I love this little thing, It seems like a considered purchase but it is taking the place of a few other beauty items and performing as well if not better job than them, very happy to have been given the opportunity to try it.