Description
SUPER SOFT, EXTRA COMFORT!
💗 Our skincare and makeup headband is made of super soft thin material to bring more comfort on your head and ensures the breath ability when using it.
💗 Premium soft and skin-friendly pink fleece material provides outstanding touch feeling.
💗 Designed to use when washing face, applying mask, doing facial spa, playing yoga, jogging or any time needing to tide up your hair.
💗 Don't buy products drop-shipped by non-reliable suppliers, our products are 100% developed in the United Kingdom complying with the most strict international regulations.
💗 The premium quality of our Headband and packaging is great for gifting too.
Customer Reviews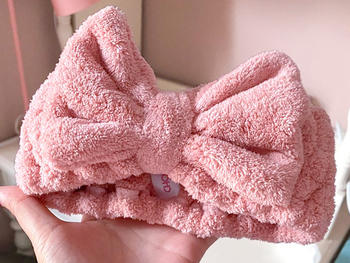 10/28/2020
Cute cute!
OMG!!! Is the cutest headband ever I want more colours!
Jess P.
United Kingdom
11/03/2020
Cute headband
So cute, great price!
Tamara B.
United Kingdom
10/19/2020
Love it!
Well i must say the bow does not sit as in the photo, but it is heavenly to touch and comfortable, not too tight that it gives you a headacke.
Roxana F. R.
Mexico
10/10/2020
Love it!
Love this for the price, cute great quality :)
Louise
United Kingdom